Title: Kiki's Corner
Posted: 10/04/2011 08:59 AM
Category: Language Arts
Description: Online Book Club
Turn around the corner and find a good book!
Kiki's Corner
Goosebumps Evan is Growing Way Too Fast
Monster Blood lll

How would you feel if you had a little annoying cousin that is obsessed with science. He is always doing experiments on whatever he can get his hands on. Now, you have no choice, but to babysit him?

Can you make any connections to having to deal with someone like her cousin?

What would you do if you had to walk past the school bullies house to get to where you need to go everyday after school? What would your solution be?

How would you solve a problem like your cousin always got you beat up every day by the school bully?

What would you say if your "genius" of a cousin made you eat a mixture that made you grow over 2 stories tall?

Has anyone ever done something that really annoyed you?

What do you think are the good things and the bad things about being 2 stories tall?

Do you have any connections about having someone younger then you always trying to get you in trouble?

Find out what happens to Evan by reading: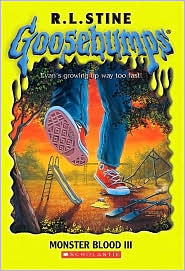 Goosebumps
Evans growing up way too fast
Monster Blood lll